About
Cas One Vs Figure Bio
The "SO OUR EGOS DON'T KILL US" album is available now in all formats! Click HERE for the MP3, CD, Cassette, Vinyl, and exclusive package deals.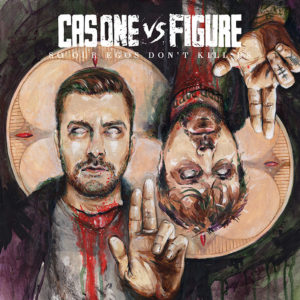 Known individually throughout indie-rap circles and the EDM world, long-time collaborators Cas One and Figure have made their artistic union official with their signing to Strange Famous Records under the moniker "CAS ONE Vs. FIGURE." Their first full-length group album is  "SO OUR EGOS DON'T KILL US,"
These monsters of the Midwest scene hail from Evansville, Indiana, USA – not the first place on the map that leaps to mind when considering incubators for cutting-edge compositions in their respective genres, but both have managed to build cult-like followings for their individual endeavors. Cas is best known for his stellar 2013 solo LP "The Monster & The Wishing Well", and respected by contemporaries and fans alike for his passionate performances.
In the DJ realm, Figure has built a devoted following worldwide with his signature brand of bass-heavy beats, touring the festival circuit and drawing enormous crowds that bridge the EDM and hip-hop communities. "So Our Egos Don't Kill Us" is the masterful result of their meshed talents, melding their starkly individual styles into a complementary blend of dense, high energy beats and bold, thoughtful wordplay.
On the first single, "Staying Gold", Cas portrays Ponyboy Curtis of The Outsiders as one of the 4 Horsemen of the Apocalypse, while songs like "The Devil & Jacob Snider" feature soulful horn bursts piercing an atmosphere of sullen, smoky confessions. It's an impressive juggling act between the somber and absurd, played out against a sonic landscape painted by a steady yet impressively inventive hand.Cas One Vs. Figure are joined by a cadre of indie rap all-stars on their debut outing, including appearances by Sage Francis, B. Dolan, P.O.S., Del The Funky Homosapien, and many more. SOEDKU will be supported on "The Four Horsemen Tour" this Spring when Cas and Figure join B. Dolan, DJ Abilities, and Dope KNife on a full U.S. run (dates & ticket links here).Exclusive "So Our Egos Don't Kill Us" pre-order packages (including CD, Limited Edition Colored Vinyl LP, Cassette & Digital Download options) are available now here!TRACKLISTING:
01 Walk Into The Cult
02 Staying Gold
03 Burn It Down feat. B. Dolan
04 Murder Media
05 Lone Wolves feat. Del the Funky Homosapien, Carnage the Executioner
06 I Should Warn You feat. Sean Little
07 Razor Blade Mark
08 Madness feat. Bitter Stephens
09 Times Out (Interlude)
10 Time Bomb feat. Sage Francis
11 The Shut Down
12 Never Stop Running feat. P.O.S.
13 The Devil And Jacob Snider
14 Pleurisy
15 Back Home