GLOW KID is here! ALXNDRBRWN is joined by the SFR crew on his new LP!
The great Strange Famous glow-up has begun!
"GLOW KID" is the new LP from producer ALXNDRBRWN!
Known for his 2020 lo-fi beats SFR debut "The Alex Brown Project" and his work on Sage Francis' "Copper Gone" LP, the soundscape artist has brought together a gang of his Strange Famous crewmates to help create his latest opus: "Glow Kid" features appearances by SAGE FRANCIS, BUCK 65, CAS ONE, BLACKLIQ, MOPES (FKA Prolyphic), SWELL (of Metermaids), SEEZ MICS, JESSE THE TREE, BUDDY PEACE, and more!
Listen on Bandcamp or wherever you stream your music!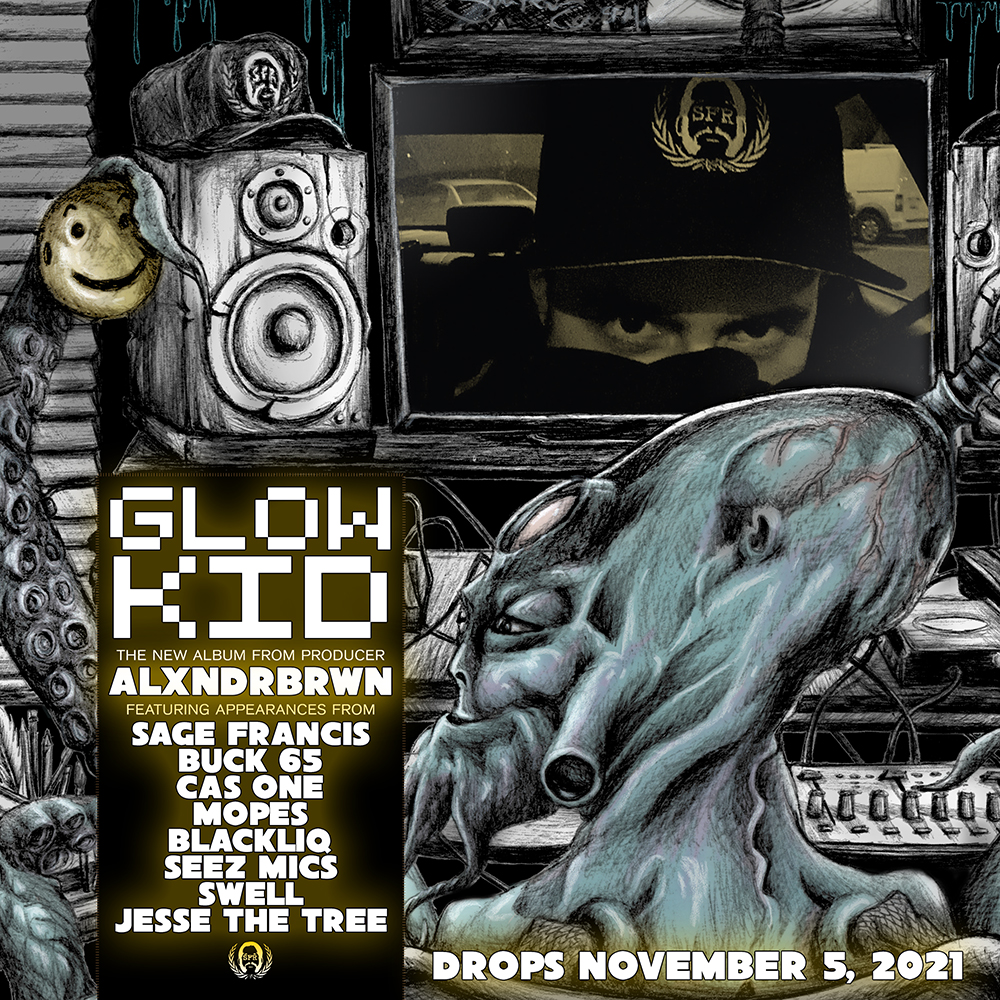 ———-
Check out the first single "Problems Got Problems" featuring Sage Francis!
TRACKLIST
01 Intro
02 Problems Got Problems feat. Sage Francis
03 When The Pot Boils feat. Mopes
04 Get Those Birds feat. Jesse The Tree & Swell
05 Dream School feat. Sage Francis & Buck 65
06 Rest
07 Heavy Footed feat. For Me
08 Caught In A Jam
09 What's The Difference feat. BlackLiq
10 A Boy Nostalgic for the Future feat. Cas One
11 Irony feat. Seez Mics & Cas One
All tracks produced by ALXNDRBRWN
Additional vocals by Amber Rachelle Coyle
Cuts by Buddy Peace
Artwork by Tai Taeoalii
Additional track credits:
02 Additional vocals by Lynzi Stringer
04 Additional vocals by Sage Francis
05 Additional vocals by Lynzi Stringer & Swell
11 Additional vocals by Genelle Wecker