TRADEMARC x MOPES tag up for HAM & EGGERS! New LP out now!
HAM & EGGERS, the debut collaboration from Strange Famous Records' new tag team combination of emcee TRADEMARC and producer/emcee MOPES, drops everywhere you listen to music on August 18, 2023!
Pre-order the album on Vinyl, Cassette, and CD at SFRstore here.
Listen & download now on Bandcamp here.
H&E features raps by Trademarc and Mopes, production by Mopes, scratches by DJ Zole, plus appearances by Sage Francis, 7L & Esoteric (CZARFACE), Vinnie Paz (Jedi Mind Tricks / Army of the Pharaohs), Jesse The Tree, Lee Reed, SUBSTANCE810, and more!
Check out the first video for "BAG WORK" featuring 7L & Esoteric & Vinnie Paz!

Video directed by Mopes
Additional animation by Morgansbrother
Special thanks to Beyond Wrestling
——————————————————————————————
TRACKLISTING
01 Gold Chains
02 Interrupt This Program f/ Sage Francis
03 No Huddle f/ SUBSTANCE810
04 Stockton To Stallone
05 Ain't Nothing
06 Fun While It Lasted
07 Behind Curtains (interlude)
08 Bag Work f/ 7L & Esoteric, Vinnie Paz
09 Royalty Checks f/ Jesse the Tree
10 Brass Knuckle Game f/ Lee Reed
11 Something Funny To Watch
12 What Doesn't Kill You
13 Coat Of Arms f/ Lee Reed
14 Chance To Be Champ (Outro)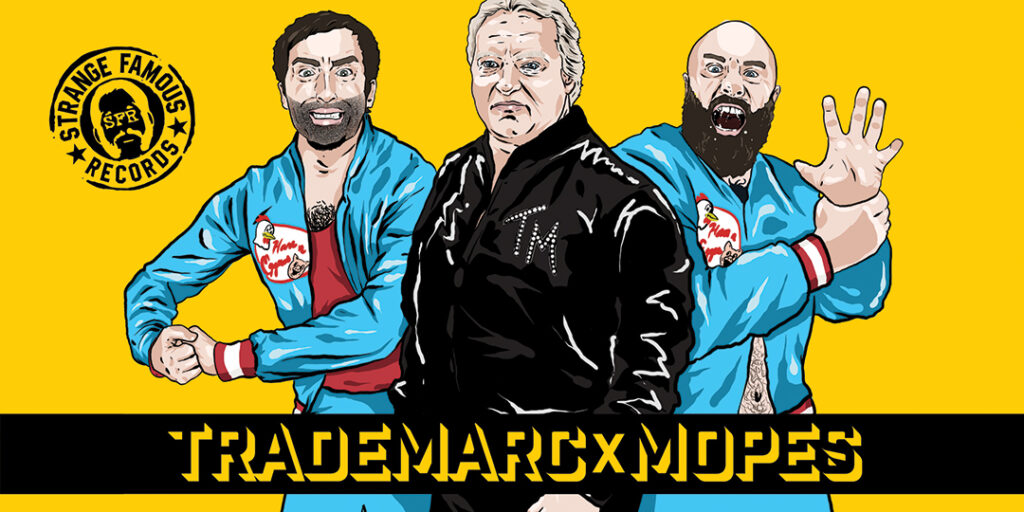 "LISTEN HERE, ALL YOU HUMANOIDS OUT THERE…"
"Now hang on a minute, Marty!"
I had to break in now or I might never get in a word edgewise. After all, I was talking to Marty "The Mind" Herman, the mouthiest meatball of a manager in the entertainment game, the PR hack's dream, the quip-and-quote machine, the megaphone for champs and challengers alike. And now he had his hooks into TRADEMARC and MOPES, and had christened them HAM & EGGERS.
But I was the microphone in front of the man, the agenda-setter, the one who guided the fans through this forest of hyperbole and hubris. This was an arena where if you interview two, one lies and the other swears to it. I was here to get to the truth, to let the people know who Trademarc and Mopes really were.
"Let's start with your new frontman, Trademarc. He used to be tag team partners with the champ, the big bruiser from Boston…"
"THAT MAKES NO DIFFERENCE," Marty blurted, his pale babyface now an eclipse of crimson. "Doesn't need him, he's a member of the Herman Family now. Doesn't need to be off making romantic comedies and putting on superhero suits for the kiddies. Family is family, but Trademarc is with The Family now, whoever and however he did whatever with is none of your concern, pipsqueak."
But understanding who T&M once were was everyone's concern: how these two vested veterans of the rap game could come under the tutelage of this double-dealing, sequin-soaked Beverly Hills blowhard was perplexing at best. Both members of the team had a dossier of impressive credentials, to say the least. Straight from the pages of SFR Magazine:
Trademarc began his musical journey with fellow indie rap heavy-hitters 7L & Esoteric (CZARFACE), forming his first official group (under the name God Complex) with the duo and other college friends in the mid-1990s. After the crew's amicable split, Trademarc hooked up with another (more literal) heavy-hitter: his cousin, professional wrestler (and rapper) John Cena. The pair released the RIAA certified-platinum LP "You Can't See Me" on Columbia Records, touring the US and Europe and making high profile appearances on TV's Monday Night RAW. Predka struck out on his own with his follow-up, the more conceptual "Inferiority Complex", and in 2008 joined old friends Esoteric and DC the MIDI Alien for 3 releases as the indie rap supergroup East Coast Avengers. His 2015 LP "Black Ash Days" (with producer DC) led him to link with SFR label boss Sage Francis, and he has been a valued part of the Strange Famous universe ever since.
"What about Mopes?" I retorted, "Now he doesn't seem like the type of individual who would associate with your…"
Cut off again.
"WHAT ABOUT MOPES?" The Mind was seething now, his vocal pitch bordering on that of a siren, his velour-jumpsuit-draped arms gesticulating wildly. "Let me tell you about Mopes: he can tell you himself! Mopes, get out here! You tell 'em what's what!"
Suddenly, a slender and intense presence made itself known, emerging from the curtain backdrop and inserting itself into the frame. The legendary underground double-threat Mopes (once a soft-spoken, well-respected, upstanding member of the hip hop community known as Prolyphic, before his dramatic heel turn) was no longer wearing his customary SFR work jacket – in its place was a sparkling satin jacket, bright baby blue and emblazoned with a large 'HAM & EGGERS' patch on the back.
"This ain't some willy-nilly freak show, brother!" Mopes came out of the gate as a race car in the red. "When Marc and I step in the ring August 18th at the Civic Center, 10,000 years of primal evolution is gonna kick in like acid on your esophagus. We're not a bunch of farm-team ham-and-eggers! Look at these ham hocks!"
Mopes frantically rolled up his shimmering azure sleeves, spastically flailing and flexing what resembled a pair of prepubescent potatoes taped to lengths of PVC pipe.
"YOU SEE? You see what type of respect you command when you join The Herman Family?" The Mind was gleefully bathing himself with non-sequiturs.
This was not the Mopes that his supporters had come to know. This was not the same person who wrote "Two Track Mind." This was no longer the Mopes of "RDNY," or the congenial team-player that spearheaded the "Party McFly" sessions.
Again, we refer to the pages of the recognized symbol of excellence in underground hip hop, SFR Magazine:
The producer/emcee (and the first signee to Strange Famous Records) spent his first 20 years in music as Prolyphic, crafting a collection of classic indie material under a name chosen with all the enthusiasm and forethought of an aspiring teenage rap addict. While his work ethic never wavered, the finished product trickled out at a pace that mocked his moniker – it was the polar opposite of prolific, with new sounds escaping the lab every half a decade or so. He dropped formidable platters with underground hip hop production legends Reanimator (The Ugly Truth) and Buddy Peace (Working Man) before spearheading SFR's digital imprint SFdigi with his self-produced LP "DNGRFLD" in 2016. His 2021 transition to Mopes led to an Olympian-paced output – just to name a few: a self-titled EP and it's follow-up full-length "Unwound;" a pair of releases with Richmond, VA titan BlackLiq; "Pigeon Man," his first opus with fellow Rhode Islander Jesse The Tree.
"We're tried and tested!" Mopes returned his elbows of mass destruction to their silos and restarted his rant. "And when the referee counts 1-2-3 this Friday night, you're gonna be the one sunny side up, brother. OH YEAAAAAH!"
He stalked off, loudly uttering random sounds to himself, leaving Marty The Mind grinning like a Cheshire Cat in a cubic-Zirconia-encrusted collar.
"What a disgusting display of…" was all I was able to say. The Mouth, er, that is, 'The Mind' interrupted yet again.
"A DISPLAY OF DYNAMIC ATHLETICISM AND LUSCIOUS LYRICISM, YOU MEAN." Marty guffawed. "The rest of the industry is about to hear what true champions sound like. That is, if you can afford a pair of headphones, mister microphone." The Mind was positively tickled by his taunts.
"Now you just wait a minute – " I extended my index finger, inches from his nose.
"WHAT ARE YA, SHOWING US HOW HIGH YOU CAN COUNT?" More sharp laughter, "That's it, interview is over. You know what you need to know. The Ham & Eggers are here, the Herman Family is building an addition on the trophy case, and the rap world better wake up and watch out."
With that, The Mind slinked out of the studio, his snakeskin steps etching echos in the ears of the assembled camera crew.
Was I furious at the mistreatment laid upon me by this Weasel of a man? Absolutely. But I had a job to do. And that job was to fill you, our loyal StrangeFam, in on the facts, and let you listen and decide for yourselves:
"Alright fans, you've heard it here first: on August 18, 2023, the Ham & Eggers collide with headphones everywhere, in the ultimate battle for control over the hearts and minds of the rap world! You do not want to miss it."
——————————————————————————————
All songs written and performed by Trademarc & Mopes, except where noted
All songs produced by Mopes
All cuts by DJ Zole, except cuts on "Bag Work" by 7L
Mixed and Mastered by DJ Zole
Artwork by Trademarc
Layout & design by Storm Davis